Fall Foliage USA: Where to Go and When to See Peak Fall Color [Map]
Fall foliage viewing, known to some as leaf-peeping, is a favorite fall pastime for U.S. travelers. From September to November, you can view leaves in various shades of red, orange, yellow, and brown all across the United States.
But when is the best time to see peak color in your area or in the area you plan to travel to?
Each year, the Smoky Mountains website updates its interactive fall foliage map with the latest stats on where and when leaf-peeping is at its peak.
Here's what the map looks like for selected dates between September and October:
In late September, fall foliage color will be patchy or nearing its peak in New England, the border areas near Canada, from Washington to Michigan, and in higher elevations in the West, particularly in Colorado, Utah, and Arizona. There will also be some foliage in the Smoky Mountains (eastern Tennessee and western North Carolina) and Blue Ridge Mountain region around the end of September.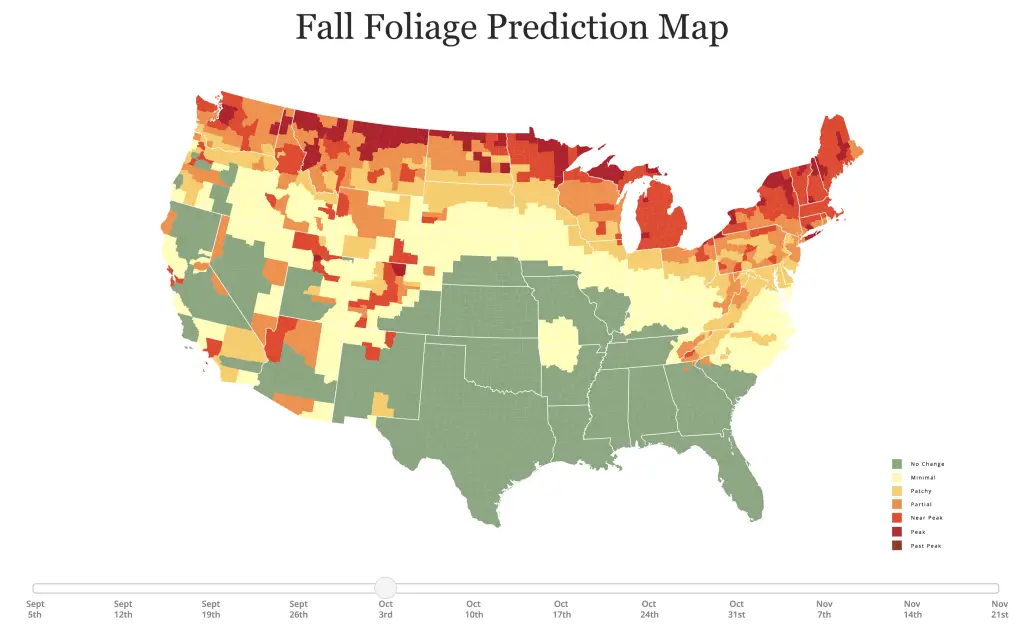 Peak fall foliage for New England, Michigan, Wisconsin, Minnesota, North Dakota, Montana, Idaho, and Washington will happen around October 3. The first week of October will also be a great time to enjoy the foliage in the Rocky Mountains.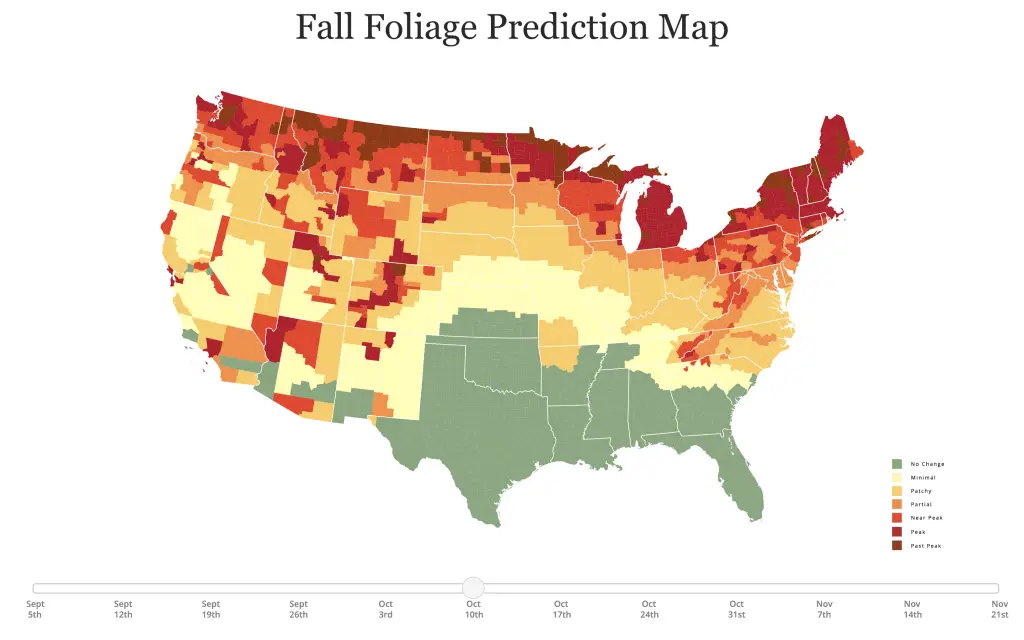 By October 10, fall foliage in the aforementioned areas—from New England to Washington State—will be at peak or past peak. However, you will start to see the best color in New York, Pennsylvania, the mid-Atlantic, and down through North Carolina by early to mid-October. Swaths of the Southwest and California will also start to show color. Patchy and partial color will appear in Ohio, Indiana, Illinois, Missouri, and Arkansas, too.
By October 17, New York will be in peak color time, as will the Blue Ridge Mountains and the Smoky Mountains. The northern reaches of New England, the Dakotas, and the western Canada border states will still have peaked, but there will still be peak color further downstate. This would be a pretty time to do a road trip from coast to coast, maybe I-40, from Wilmington, North Carolina, to Barstow California.
You can head on over to the SmokyMountains.com fall foliage prediction map to see other states and dates. The map is updated yearly with new stats based on meteorological conditions. But, should you be planning a USA fall foliage viewing trip beyond this fall, you can be sure that the maps look fairly similar from year to year.
Finally, one drawback you may notice with the Smoky Mountains map is that it only shows the continental U.S., omitting Hawaii and Alaska. Hawaii makes sense…but Alaska? Well, that's because Alaska is so far north that its fall foliage transition takes place in August and is usually finished by the beginning of September. Only southwest Alaska will have fall color into September. Plus, you have to remember that Alaska is full of evergreens.
Feature photo of fall Foliage, Kancamagus Highway, New Hampshire, via Unsplash